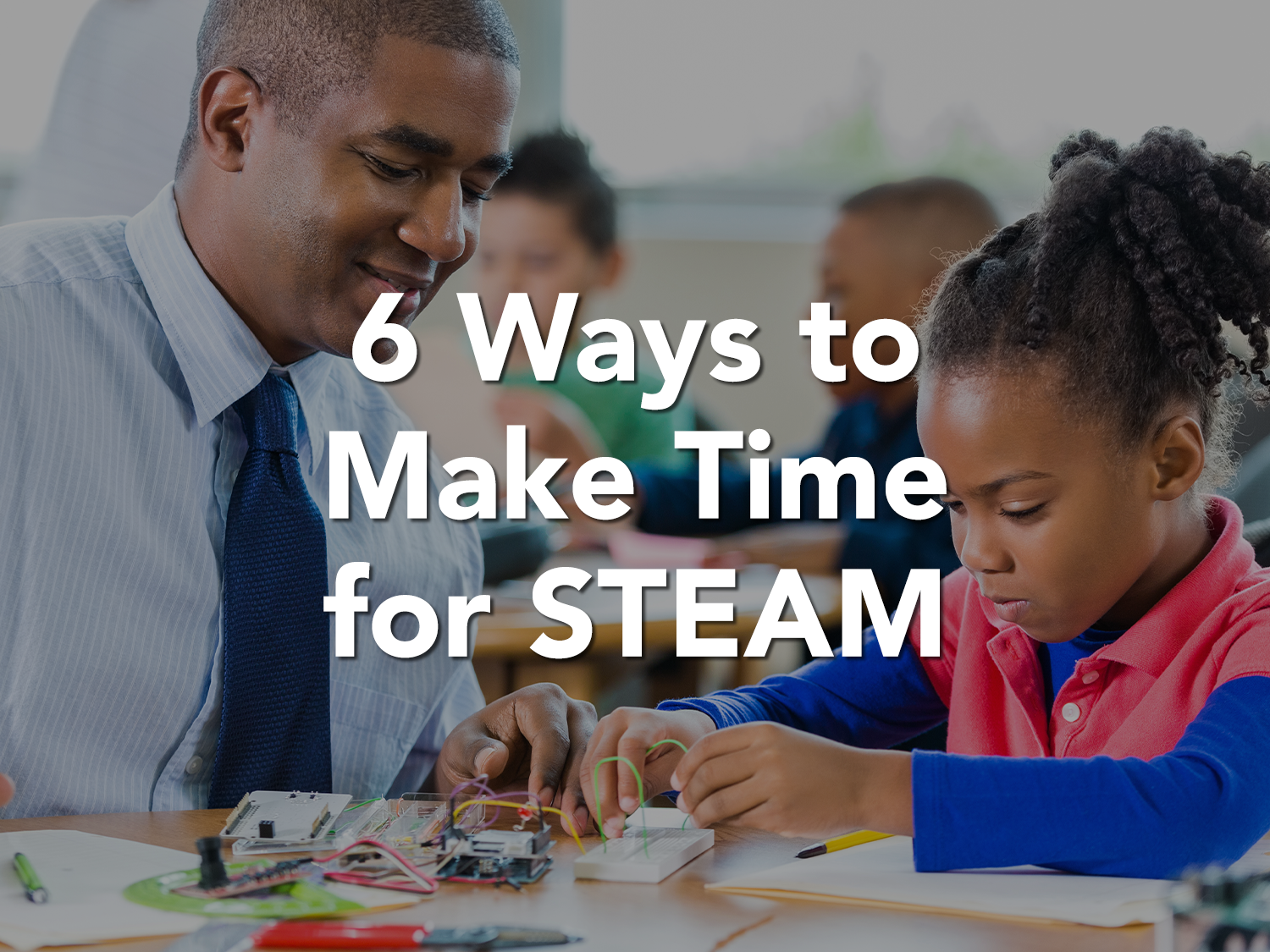 Wondering if STEAM (science, technology, engineering, arts, and math) curriculum is too time-consuming for your school? With a little creativity, principals, curriculum coordinators, and teachers can find the time to fit the main components of STEAM into their teaching regardless of how crunched they are for instructional minutes! In this article, we'll explore simple strategies that will help educators integrate STEAM into their busy school schedule. Plus, download our free This or That Simple STEAM Brain Builders that can be used in classrooms and afterschool programs, or shared during a faculty meeting.
A rigorous STEAM lesson takes anywhere between 60 minutes and a few class periods to complete. Ideally, a high-performing STEAM project should incite students to plan, build, reflect, analyze, collaborate, problem-solve, and make meaningful connections. That's no small feat! Not surprisingly, having students complete that entire process requires more than a few minutes. While it might seem like you (or your teachers) just don't have the precious instructional time to spare, it is possible to fit the fundamental steps of a STEAM project into any busy schedule.
6 Ways to Make Time for STEAM in Your School Schedule
The way you adapt instructional time to allow for STEAM projects will differ according to when, where, and how you implement them. Whether you're a principal exploring the options of STEAM curriculum across your entire school, part of a larger department that supports the adoption of STEAM curricula, a leader of an educational afterschool program, or you're an individual teacher whose colleagues or administrators might not share your passion for STEAM education, it is possible to fit high-quality STEAM lessons into your day.
One of the very best things about STEAM (and what makes it so adaptable to any schedule) is that it's an approach, not a scripted curriculum. Therefore, the key elements can be touched upon in any course or afterschool program. But don't despair if you're going at it alone! While there is a growing trend in STEAM programs for both afterschool and as self-contained classrooms, even if your school doesn't have any time set aside specifically for STEAM, there are ways to incorporate the fundamental principles into daily or weekly routines.
While it can be overwhelming to know just where to start, we do have a few tips and tricks to make it easier!
#1 Communicate, Collaborate, and Coordinate
Making STEAM manageable for your school schedule oftentimes comes down to working with others. Principals and curriculum coordinators can work with faculty to communicate, collaborate, and coordinate STEAM efforts. Strategically working with teams of teachers to plan and prep for projects saves everyone time and makes it less stressful for everyone. Additionally, this collective creation process ensures faculty is all on the same page about STEAM pedagogy, objectives, implementation, and instructional expectations! Likeminded teachers that don't currently have leadership that prioritizes STEAM can work together to come up with ideas, divvy up the work, and delegate the tasks needed to set up projects. Another option for teachers is to reach out to parent volunteers for help. Community volunteers can also be a valuable tool for providing materials, preparing resources, helping manage students, and gathering materials. Lastly, get students involved in STEAM planning. Students love to feel a sense of purpose by serving as leaders or helpers in the classroom. Excite and engage them by inviting your pupils to the collaboration table.
#2 Integrate STEAM With Other Subjects and Timely Holidays/Events
Remember what we said before about STEAM being an approach and not a scripted curriculum? Well, this is where it comes into play! If you don't have the time to dedicate an entire instructional day or week to a complicated STEAM project, you can still apply the principles of STEAM to any course content. Developing a unit on fairy tales? Preparing a geometry lesson? Gearing up to celebrate holidays and timely events in your classroom? Need ways to spice up history topics? Try working STEAM into your plans. Let your typical curriculum inspire and guide STEAM activities. Even a simple STEAM activity integrated into a part of a larger unit is an effective way to engage students and help them make cross-curricular connections.
#3 Research Resources
The great part about the growing popularity of STEAM lessons is that there are incredible premade resources available! No need to do it all yourself or reinvent the wheel (although that does sound like a pretty cool STEAM project). From TinkRworks to Teachers Pay Teachers, the amount of high-quality, no-prep STEAM resources out there is astounding. A great way for principals and administrators to save time (and sanity!) is to purchase pre-made STEAM project kits and lesson plans from experts. Pre-made projects made by STEAM project-based learning experts makes finding time easy for educators! Additionally, they are designed to ensure the curriculum being implemented in school is rigorous, promotes cross-curricular connections, supports teachers in implementation efforts, and more! Want to see examples of ready-to-go STEAM projects? Check out these highly-reviewed and expertly-designed curricula from TinkRworks.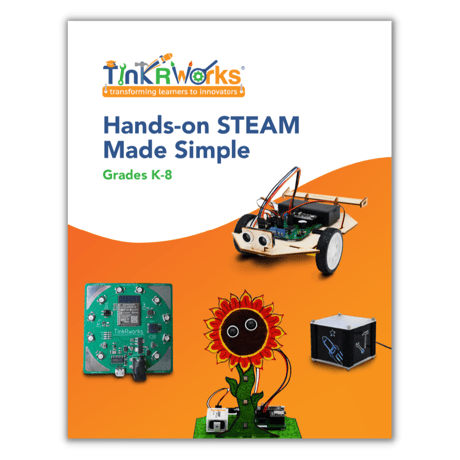 #4 Reprioritize
At the end of the day, the projects you adopt have to be able to adapt to your changing schedule. We've said this before, but the amazing thing about STEAM is that the principles are adaptable and cross-curricular! So, whether it's testing week, and you only have 5 minutes of free time, or it's the three hectic days before Thanksgiving, and you've got to find ways to fill the schedule, you can scale up or down accordingly. If you have time to spare, jump headfirst into a multi-day STEAM project; if you have only a few minutes to fit STEAM in, do something simple, like a read aloud or a STEAM Brain Builder (more on that below!). Remember, making room for STEAM has positive payoff. You're engaging students in meaningful ways and complementing core instruction.
#5 Simple STEAM Brain Builders
What if you're passionate about incorporating STEAM into your classroom, but you just don't currently have the time to dedicate one hour let alone one day to the design process? You can still weave the STEAM fundamentals into a few short moments of reflection time with This or That Simple STEAM Brain Builders. These short activities will get your students in the STEAM headspace and motivate them to think like innovators! Use them as a "Do-Now," put them up in your Makerspace, or keep them handy for early finishers–whatever you use them for, they're helpful to have around.
These prompts are a great, quick introduction to STEAM and will push students to deeper levels of analysis by touching upon certain elements of the STEAM model.
Check out these no-prep, low-tech, only pencil-and-paper-required STEAM-related question stems, puzzles, and reflections that promote creativity, critical thinking, and curiosity. Download our This or That Simple STEAM Brain Builders to get started!
#6 Routines and Recycle
While we can't entirely adopt a "set it and forget it" model for our STEAM lessons, there are some routines you can put in place that will keep your classroom running efficiently (and save those precious instructional minutes). Teaching students the procedures for a STEAM lesson admittedly takes a chunk of time. But don't panic yet! Once students practice the routine and commit it to memory, you can kickstart a STEAM lesson much faster. Another great way to save time and make STEAM manageable for your busy schedule is to create certain classroom materials that you can recycle and use again and again. Whether that be a video tutorial that you can use each year with students or printable lessons (like the amazing TinkRworks ones!) that you can employ each year, setting up routines and collecting reusable materials will save you valuable time.
In Summary
So many educators want to jump on the STEAM bandwagon and adopt a project-based learning model in their school or classroom. But what gets in the way? The perceived amount of time it takes to design and implement STEAM lessons oftentimes makes educators shy away from integrating it into instruction. We're here to tell you that regardless of your schedule or teaching environment, STEAM can (and should) find a place in your school schedule! Collaborate with others, create a routine, and find pre-made resources (like the incredible projects from TinkRworks)--there are so many ways to make STEAM more manageable time-wise. Don't forget to download our This or That Simple STEAM Brain Builders for easy-prep STEAM prompts you can use today.