Successful Summer STEAM: A Guide to Designing a Top-Notch Summer Program

TinkRworks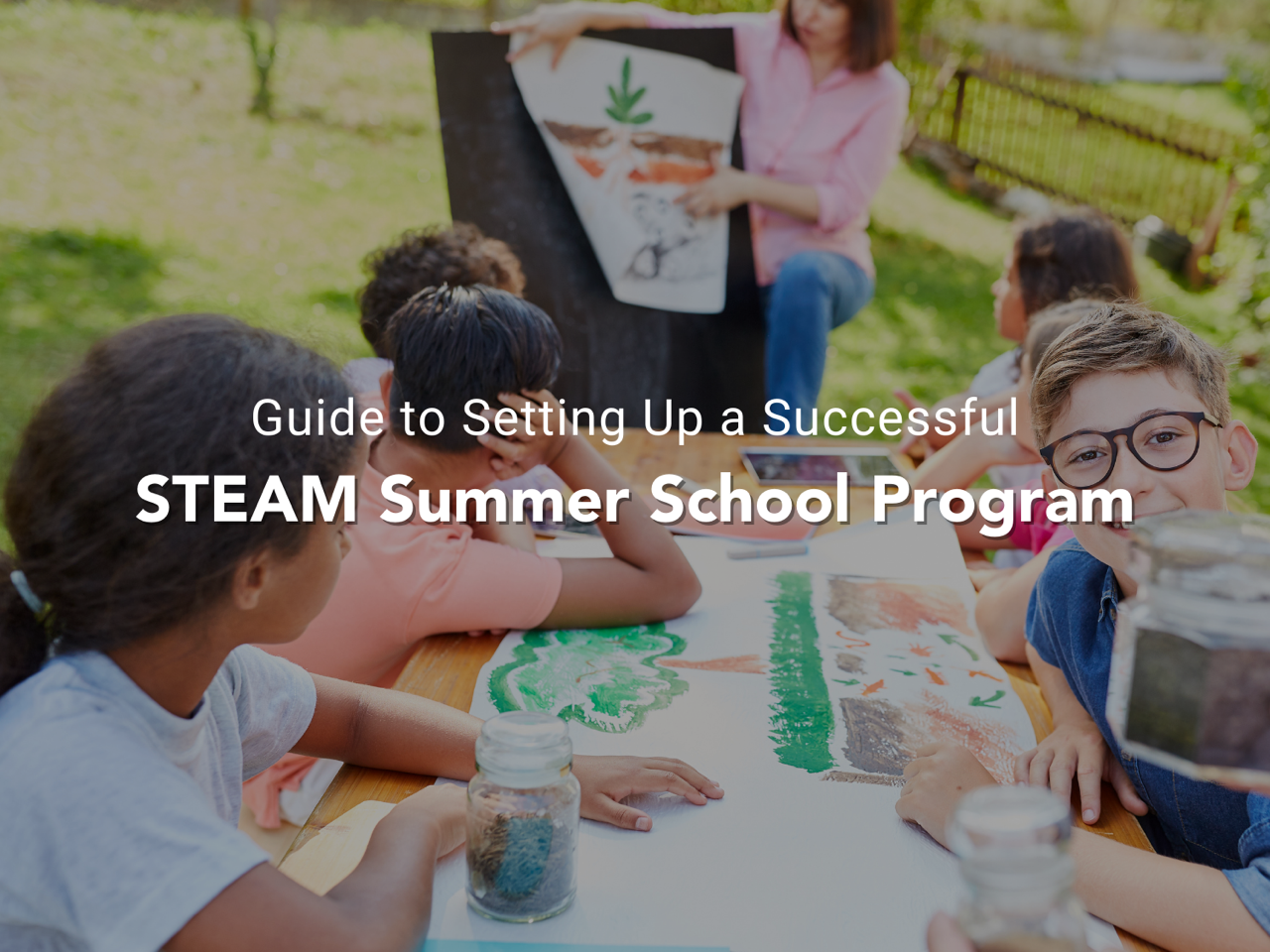 Summer school provides the perfect opportunity to implement STEAM (science, technology, engineering, art, and math) curriculum! In this article, we'll explore ways to create summer enrichment opportunities through a STEAM summer learning program. Plus, download the free Creating a Highly Successful STEAM PBL Program Checklist.
STEAM + Summer School = A Perfect Fit
STEAM education continues to grow in popularity (and for good reason!). Increased procedural fluency, sharpening of collaborative skills, deepening of critical thinking, development of a growth mindset, rich content knowledge that students retain for the long-haul, and on and on–schools across the nation are experiencing the incredible benefits of a STEAM-centered curriculum. Studies also show that hands-on learning is a great way to support students who need more opportunities for academic development. It is for those reasons and more that educators are finding ways to incorporate STEAM lessons in creative and innovative ways.
Despite knowing the benefits, however, many schools struggle with finding the right instructional time during which to implement STEAM units. Teachers and administrators alike are left wondering how they can fully realize the benefits of STEAM Project-based Learning within the confines of a traditional school day.
The Benefits of Summer STEAM
At TinkRworks, we LOVE a STEAM summer program, and here's why:
There's a low buy-in

It can be intimidating to kick start a whole new curriculum! Integrating STEAM into your summer program allows you to focus on a single project (like our incredible

TinkRworks ones

) before adopting an entire year-long curriculum

It gives schools an opportunity to train educators on how to teach STEAM lessons outside of the busy school year

It provides students with enrichment and deepens the impact of core instruction through hands-on, experiential learning

It's fun! Nothing better than an engaging project-based curriculum to get students excited about learning during the summer months

It ends up feeling more like a STEAM enrichment camp than summer school
Ready to jumpstart a STEAM summer learning program at your school but not sure where to start? Check out our Creating a Highly Successful STEAM PBL Program Checklist.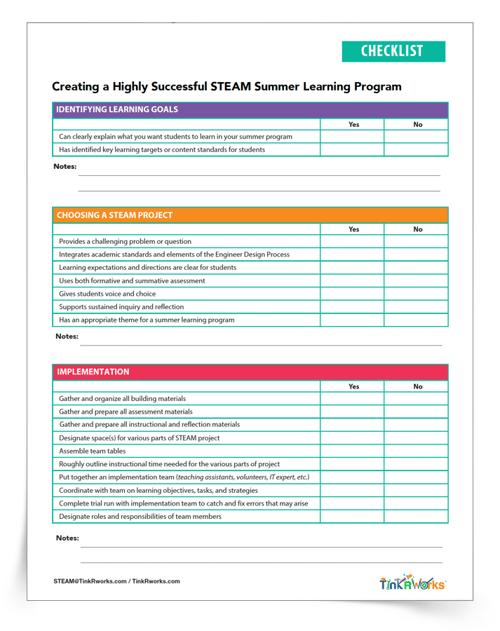 How to Implement a Highly Successful STEAM PBL Program
If you're ready to try out a summer STEAM PBL program at your school, you'll want to make sure you've got some systems in place to help your teachers and school find success.
STEP 1: Identify Your Learning Goal
What do you want kids to learn in your summer program?

What key learning targets or content standards do you want them to hit?

Once you know the answer to these questions, you can then decide upon the appropriate type of STEAM project.
STEP 2: Choose a STEAM Project
While there are many options out there, we're particularly proud of the projects we've created here at TinkRworks!

For some well-designed, engaging, and easy-to-implement STEAM projects, check out Art Electric or LaunchPad.

STEP 3: Provide Professional Development
Getting started with TinkRworks is as easy as ABC. Facilitators of a summer program do not need to be STEM or coding experts. Plus, we provide the resources for a successful summer program.

For some more help here, check out our professional development kits!
STEP 4: Launch, Teach, Collaborate, and Celebrate
A TinkRworks project fits perfectly into summer school. With 10 to 15 hours of instructional time per project, it's easy for educators to fit TinkRworks into their unique summer school plan.
STEP 5: Establish a STEAM Culture in Your School
Leverage your STEAM summer experience. Find opportunities for summer school students to share what they've learned with their classmates during the school year.

Develop a STEAM showcase to help build an environment where students want to think and act like scientists, engineers, and innovators all year long.

Launch a STEM Club after school during the school year.

Use our STEAM Superheroes Classroom Kit

to get your students thinking like STEAM engineers!
In Summary
Knowing how and when to implement STEAM can be tricky. Integrating STEAM projects into your summer learning program is a great way to experience the incredible benefits of STEAM and revitalize your summer enrichment time! For some extra guidance on how to kickstart your summer STEAM program, check out our latest download, Creating a Highly Successful STEAM PBL Program Checklist.